CAT – Technological Aid Center
CAT Project
The Technological Aid Center (CAT) of the Fondazione Turano
The Technological Aids Center (CAT) is an innovative services that aims to provide a service infrastructure for the care and research in the field of disabilities, in particular regarding communication disorders, promoting the possibility of collaboration between different centers (universities, IRCCS, private healthcare facilities, schools, care institutions) interested in sharing data and possibly in participating in national and international research projects.
The CAT is a space equipped with "assistive" technology devices. As indicated in the UNICEF Convention on the Rights of Persons with Disabilities and recognized by the WHO in the World Disability Report of 2001: an assistive technology device is defined as «any element, equipment or product system, whether commercially acquired or customized which is used to increase, maintain or improve the functional abilities of the person with disabilities».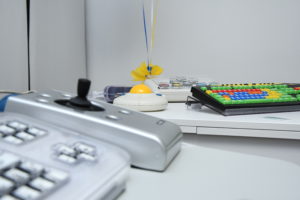 The CAT Project of the Fondazione Turano is inspired by international initiatives in the field of assistive technologies and Augmentative and Alternative Communication (AAC). The AAC represents a set of knowledge, techniques, strategies and technologies designed to simplify and increase communication in people, children and adults, who have difficulty using the most common communication channels, with particular regard to oral language and writing. The objective of the Foundation is to contribute to overcoming the current fragmentation and/or absence of care and assistance activities aimed at children and adults with communication disorders thanks to the involvement of all the centers potentially interested within the CAT, organized according to the latest scientific evidence From AAC and implemented with the most modern assistive technologies in the field of AAC.
In the launch phase of the CENTRO AUSILI TECNOLOGICI (CAT) Project, promoted by the Fondazione Turano in Rome, the service presentation tables are open to all rehabilitation facilities in the South, who are interested in providing their users with access to the assessment.
In Crotone, the Centro Salute Turano (Turano Health Center) has already joined the CAT Project, which after a careful analysis of the need of AAC treatments, for the users served, has invested in resources in training dedicated operators and in field technologies.
The Rehabilitation center has already signed an understanding protocol with the Turano Foundation to access the innovative services of the first CAT of Calabria and to be able to take advantage of the scientific supervision and training made available by the Fondazione Turano.
After this phase, the aim of the Foundation is to count on the active participation of the territory in the CAT Project, which allows to "make a network" to enhance the quality and care of research.
The scientific committee of the CAT Project is composed of:
Dr. Carmelo Turano, neurologist and neurosurgeon, President
Dr. Fabrizio Corradi, psychotechnologist
Dr Caterina Podella, neurologist
Download the poster for the inauguration of the CAT in Calabria.